You can choose which languages an event is in when you are creating said event.
In the Events module, click on "Add" to create an event and go to Step 3: Target the audience for your event.
The field "Languages" allows you to choose the languages in which you want your event to be visible. Select the desired languages, create the event and activate it to make it visible to students.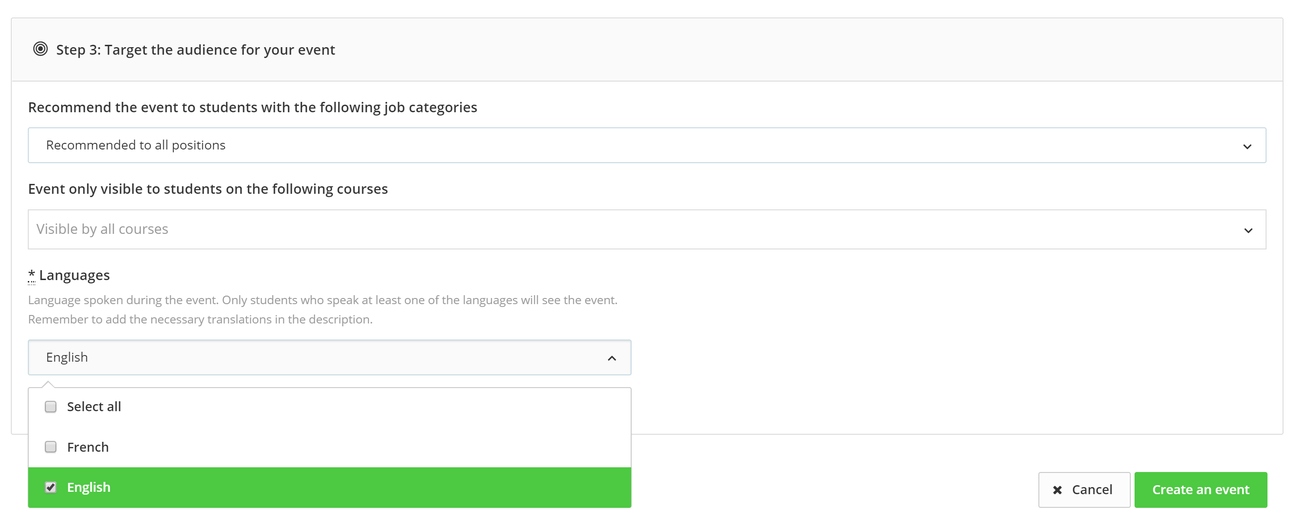 In the example above, only "English" is ticked, which means that the event will only be visible for students that have accepted to view English content (whether as their main language or a secondary language).

In the following example, both "French" and "English" are ticked, which means that the event will be visible for the students who have accepted to view content in French and/or English. The visible content (title, description, etc.) will be identical for a student viewing only French content or only English content. In that case, we recommend either:
to create the content of the event only in English
or to put the title in English and the description in both languages (in the "Description" field).
As a reminder, the main language is the website display language and the default language for content to be shown whereas the secondary language adds the possibility for users to view content in additional languages. Adding a secondary language means you see content in the Jobs, Events, Companies, Resources modules in various languages. This means that students who have a language selected as either their main display language or as a secondary language will be able to see this content.
In those two examples, the only languages activated in the Career Centre are English and French. If other languages are activated, it is also possible to make the event visible for these other languages - the rules remain the same.