Creating an event couldn't be easier! All you have to do is set up your event in 3 steps, then activate it! This article will detail information about non-mandatory customisable fields; fields preceded by an asterisk are mandatory.
Set up your event.
Step 1: Complete basic information about your event.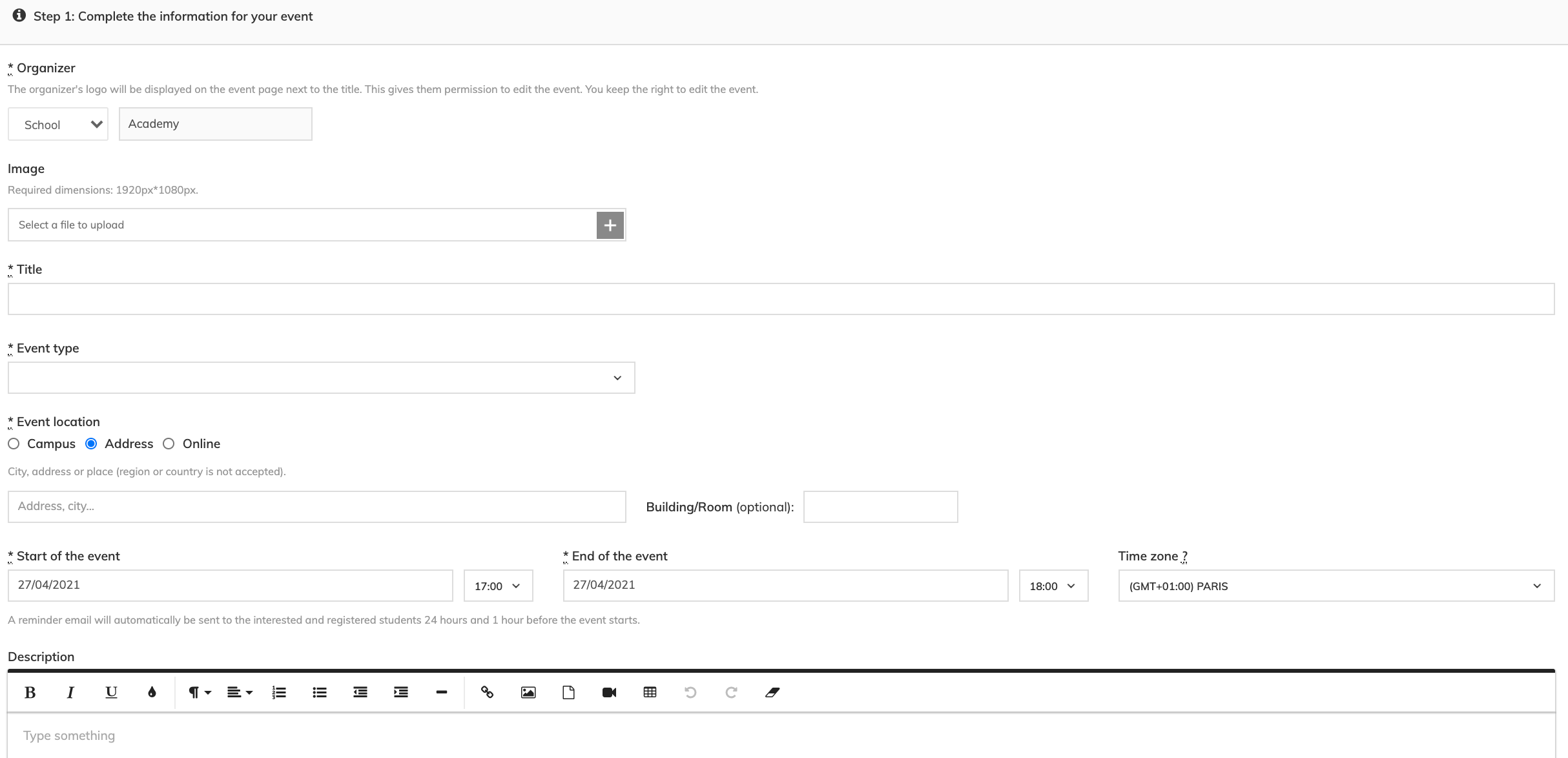 Title :max. 75 characters
Host: change the "School" field to "Company" if you are creating an event for a company. Otherwise, leave it as it is.
Image: select an appropriate image to help your event stand out. It should make your students want to register. Recommended image size: 640px by 360px or more.
Speakers: Indicate the names of the speakers participating in the event (2000 characters maximum)
Business partners: add associate companies to the event, as long as they have an active profile on your Career Centre. You can do this by entering the company name and selecting it from the choices available. This action will allow the logo and company name to appear at the bottom of the event description, so that students can find out about the companies that are present with a single click!
Step 2: Configure the registration.
Three good reasons to create an event with registration:
Involve students who will receive a reminder the day before and an hour before the event.
Get statistics on your event.
Generate time sheets (online or printable) for individual student monitoring.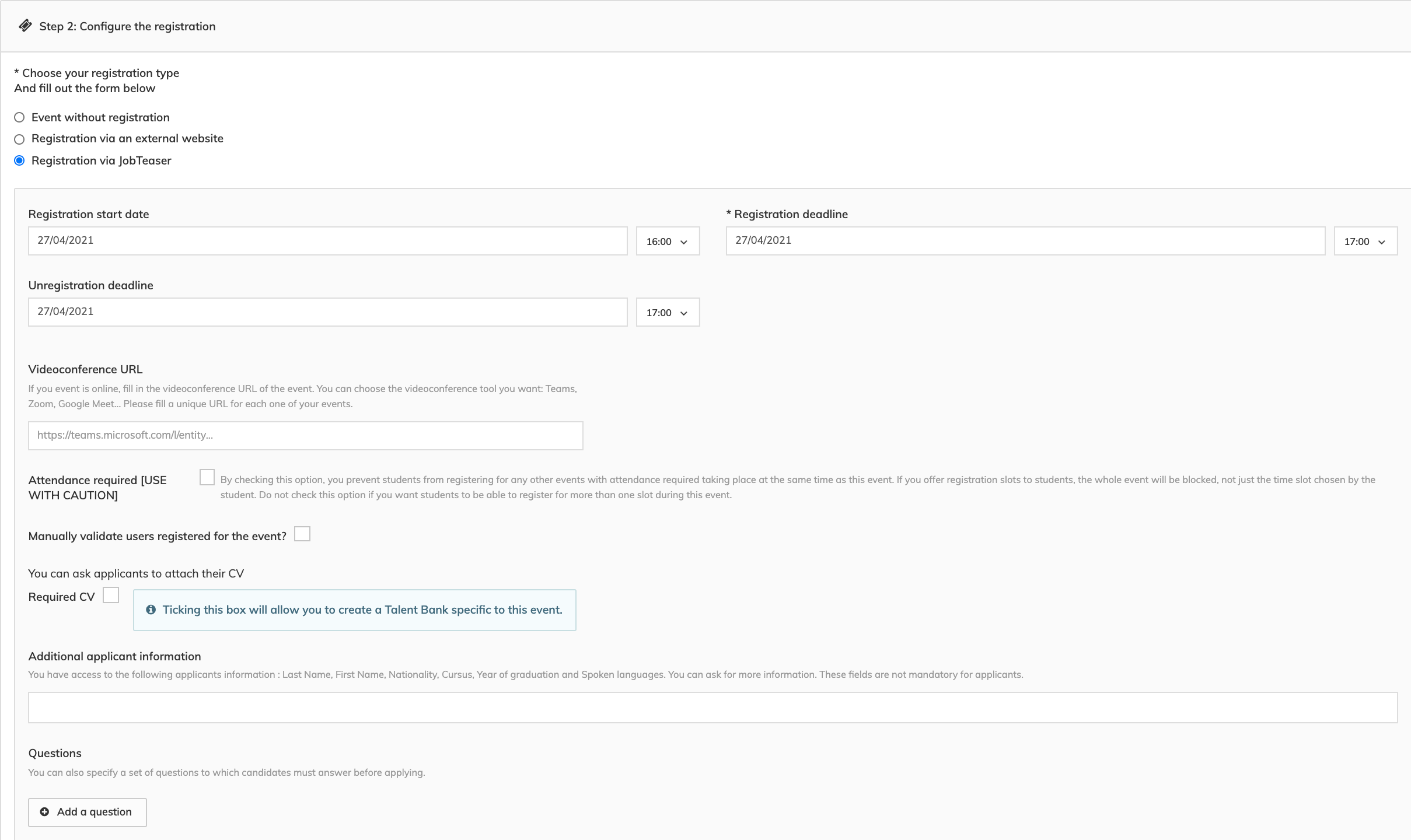 Unregistration deadline: specify a date before the end of registration if you want to prohibit students from unsubscribing at the last minute.
Video conference URL: Make sure you always put a link starting with "https://"
Attendance required: prevent students from registering for another event happening at the same time.
Manually validate event registrants: Students can only apply for the event. Their final participation is only effective once the event organiser has accepted them from the Back Office.

Important:

In the case of manual validation of registrations for an event with slots, the student only selects their slot once they have registered for the event.

Required CV: make CV filing mandatory for your students at the time of registration and generate event specific CVbooks. You will have the possibility to create a temporary CV library linked to an event and give access to the companies associated with the event. All you need to do is send an email to your personal contact in JobTeaser. For more information, see our dedicated article Creating a CV library as part of an event.

You can specify a maximum number of places available for an event. Once the number of registered students has been reached, they will be able to register on a waiting list by clicking on the "Register on waiting list" button.
You can also offer several slots to students: very useful if you want to organise company/student interview sessions during your event, conferences or even coaching workshops! This option allows you to save time and easily manage your calendar. To find out more, consult our dedicated article How to set up slots for an event?
Step 3: Target the audience of your event

Target the event for specific student profiles. You can make the event visible only for certain course programs, which means students from other programs will not see it on their Career Centre. This can be done via the "Event visible to subscribers of the following programs" field.
Activate/Deactivate your event.
After you have set up and created your event, it is by default
Inactive
. It is therefore not visible to students. This is useful for preparing an event in advance!

Remember to click on
Active
when you want to make it visible to students. You can also pin it to highlight it! For more information, see our dedicated article
How do I promote my event ?

DId you know? Creating an event with registration via JobTeaser is highly recommended to:
Engage students more, as they will receive reminders one day and one hour before the event
Have a global view of your subscribers & obtain statistics on your events
Collect data on the student for a personalised follow-up