Before you can use the Appointment module and make it visible to students, you need to set it up.
In addition to this article, there is other content available for you that explains the new module in more detail and will help you understand it better:
- A replay of the group training is available here.
- In video format, managing advisor profiles (only available in English)
- In video format, managing appointment types and settings (only available in English)
The setup of the appointment module is done in 4 steps:

1. Settings of the module

In the Appointment module, select the "Settings" tab
From here you can select a title that will be visible in the appointment booking page for the students and a message to the students: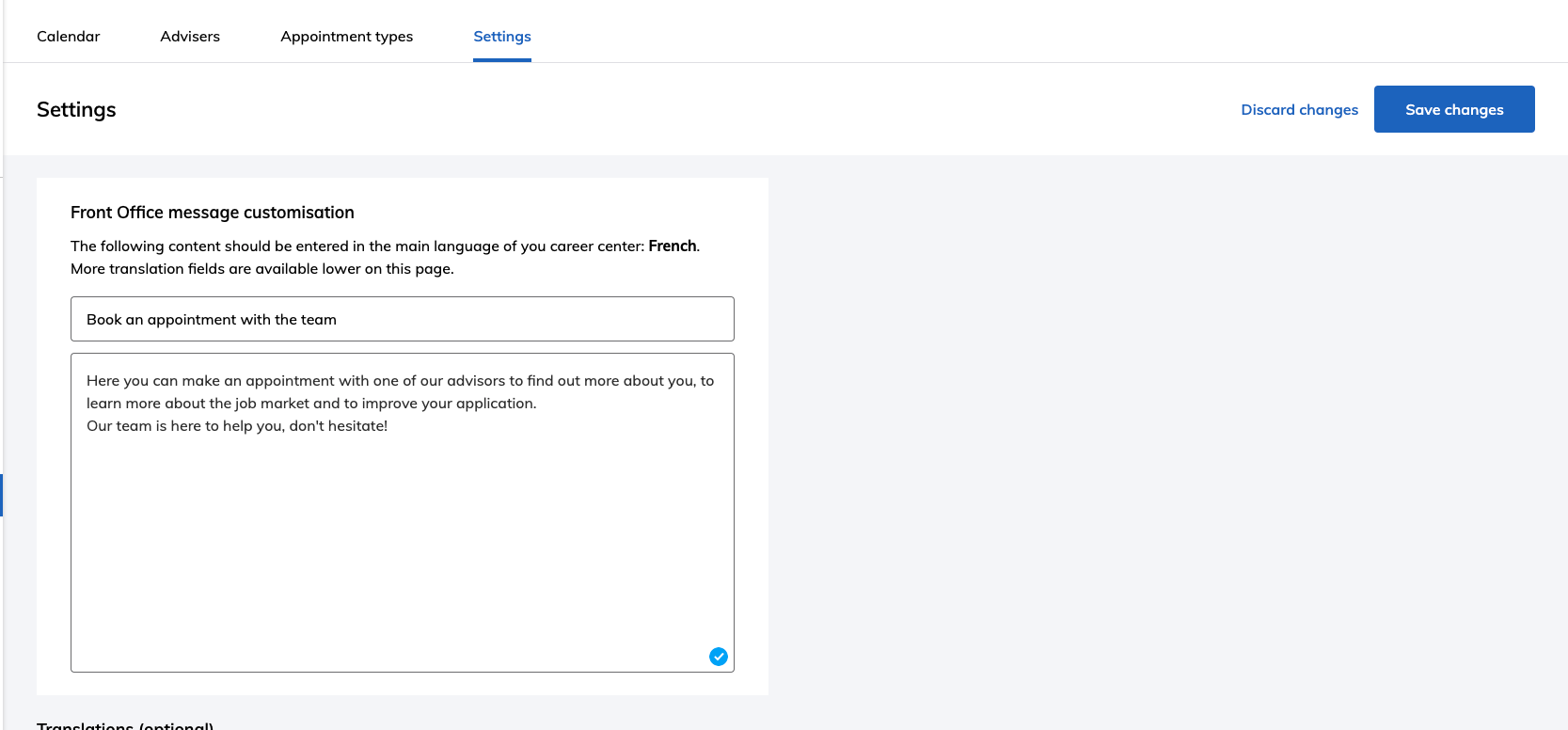 2. Adding advisers
Select the "Advisers" tab
Click on "Add an Adviser".
Enter a Career Center administrator or career_advisor account and then edit their profile to be as comprehensive as possible. Then click on "Create".
You can indicate the appointment formats that the advisor will make, this information is for the information of students, several formats can be indicated.
Note that if you are working with external coaches, you can create a "Career Adviser" profile for them (so that they have limited administrator access to the Appointment module).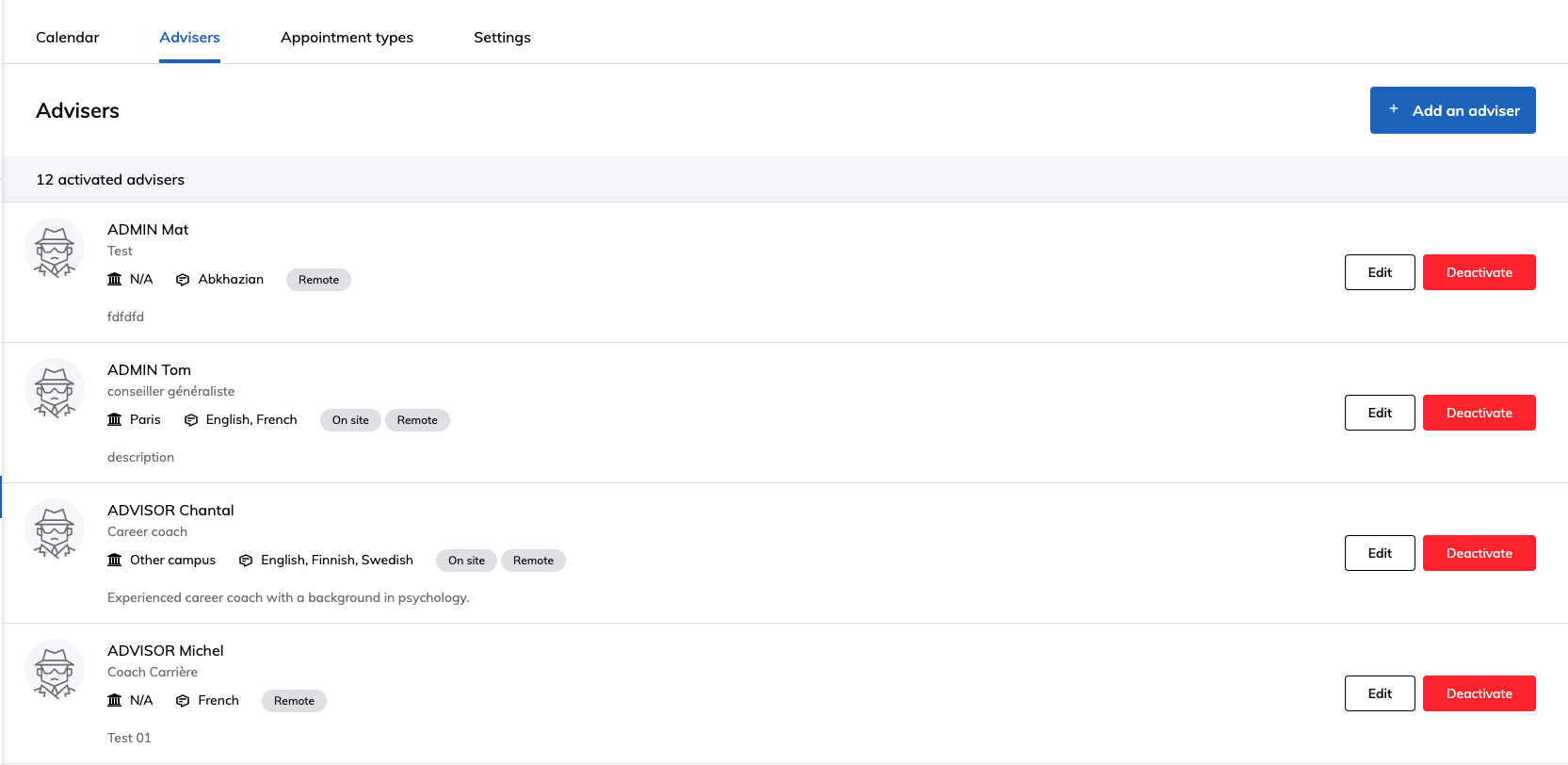 3. Creating the proposed appointment types
In the Appointment module, select the "Appointment types" tab
Click on "Add an appointment type".
Fill in the title and select the duration of the proposed appointment. Note that if the desired duration is not included in the selections, it is also possible to manually enter a duration using the keyboard.
You can describe the proposed appointment as well as the instructions for participating in the appointment.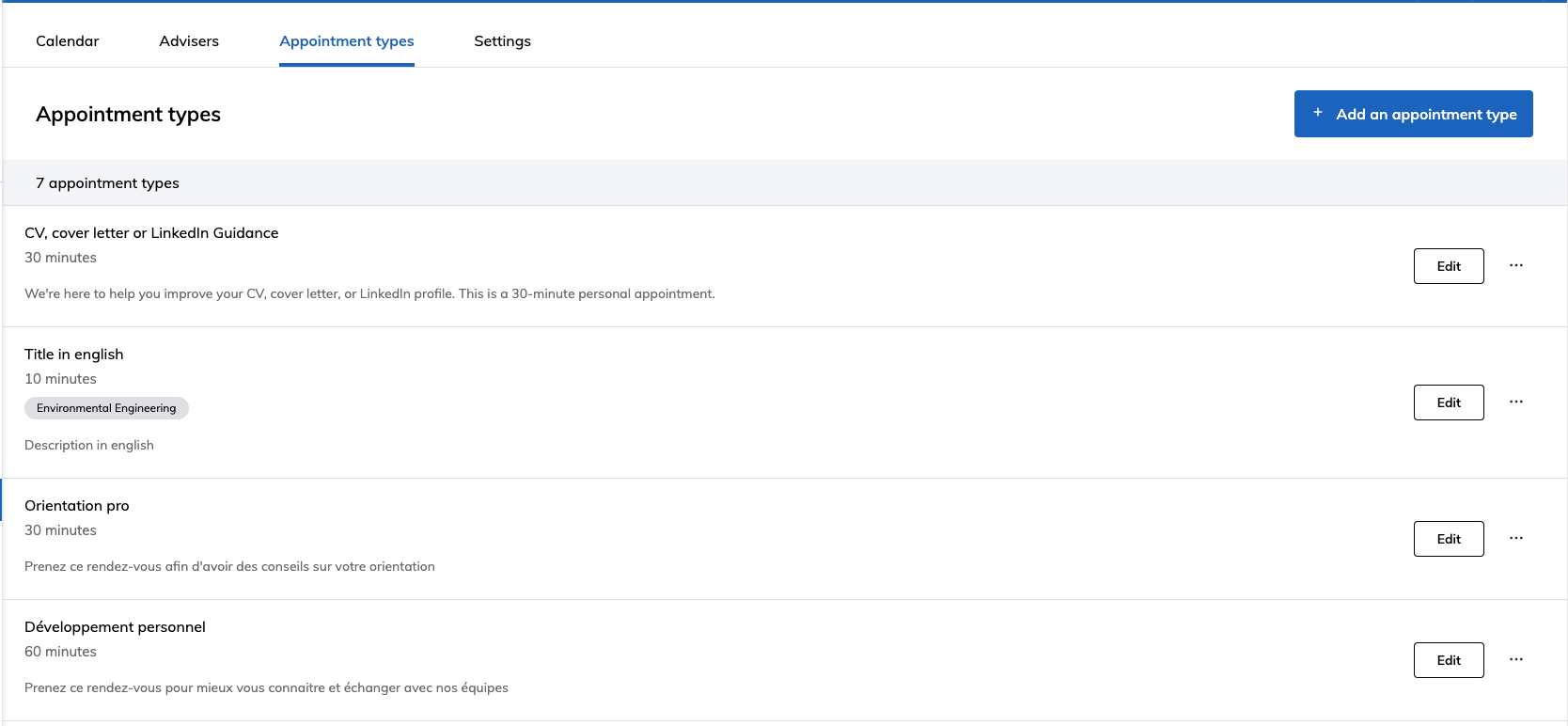 4. Adding the advisor's availability
In the Calendar tab, click on "Add" then "Availability".
Select the Advisor
Select the type(s) of appointment
Define the start and end date and time, and how often the availability is to be repeated
Please be aware that the length of the slot needs to include enough time for any break time associated with the appointment type. If the slot is too short, the availability will not show for students.
Type a video-conference link or choose the campus and indicate the room if necessary
Click on "Create".
For a more in-depth look at this, please visit our second article:
Using the new Appointments module as an advisor