In the Talent Banks module, you have access to all CVs submitted by your students on their profile.
The permanent Talent Bank allows you to share student profiles with recruiters. Two uses of the Talent Bank are possible:
The access to the permanent Talent Bank is open only to your school
The access to the permanent Talent Bank is open to your school and to partner companies
If you want to give your partner companies access to the Talent Bank, please get in touch with your contact at JobTeaser.
You also have the opportunity to validate the CVs in the Talent Bank before making them visible. If you are interested in this feature, please get in touch with your JobTeaser contact.
(1) Search for a specific profile: you can search by filter by clicking on "Detailed search" then "Apply filters" (contract, function, sector, contract duration, programs, etc.) to have access to targeted CVs based on your search. Note that the search by keyword will search for matches directly in the CVs of the students.
(2) List of students matching the search criteria: here you can visualize the key info about the students matching your criteria (their school, program, the type of contract they are looking for, the languages spoken in particular). By clicking on "CV" you can view the CV of each student.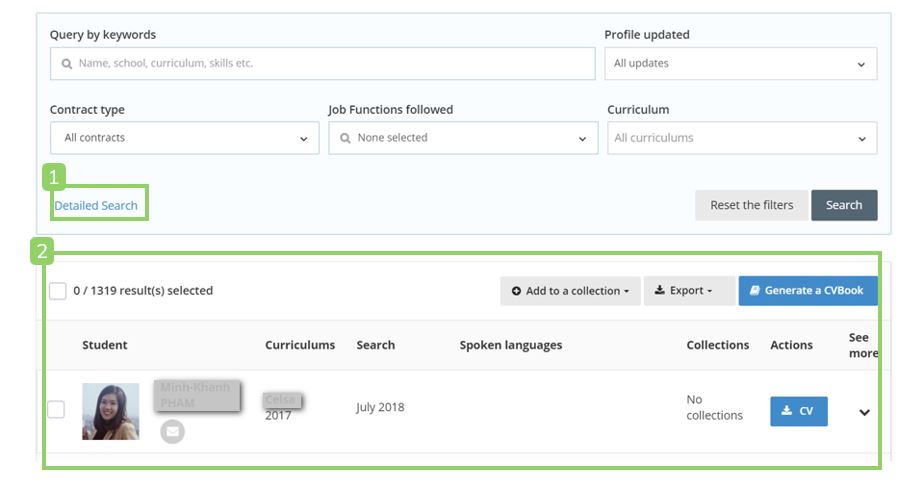 (1) Adding to a collection: you can select the profiles matching your criteria and create / save this selection in a collection. All collections are shared among the admins of the Career Center and are easily exportable.
(2) Exporting info: you can export all the information about the students matching your criteria (Excel or Zip format). This feature is particularly useful to extract the emails of these students and share with them a job likely to interest them.
(3) Generating a CVBook: you can easily generate CVBooks to share with companies by selecting the student profiles and by clicking on "Generate a CVBook". This feature allows you to add a beginning and an end page to illustrate and harmonize your CVBooks and export your CVBook in one click in the PDF format. The CVbook is sorted by alphabetical order.