1. A well-chosen sender:
Enter the name of your university's careers service here.
⚠️ Avoid going beyond 17 characters as your sender's name will be truncated in some mailboxes (particularly gmail).
2. An eye-catching subject:
The subject line plays a vital role in deciding whether or not to open an email.
It's important to grab your students' attention with a clear, concise, relevant and unique subject line. Don't hesitate to personalise the subject with the student's first name to optimise the open rate of your emails.

⚠️ We recommend that you do not exceed 60 characters, as your subject will be truncated on mobile phones (most of your students check their email on mobile phones).
⚠️ Don't use exclamation marks and don't overuse capitals, as this increases the chances of the email ending up in spam.
3. Send your emails at the right time and for the right purpose:
Avoid sending more than one email per week per student. Communicating too frequently could have a negative impact on the performance of your emails.
Communicate early in the morning, ideally between 8am and 9.30am.
We strongly advise you not to send emails at weekends and to avoid Mondays and Fridays.
4. Add a button to encourage clicks:
The role of the button is to redirect the user to the page you wish to highlight.
The button should be clearly visible and placed at the beginning of the email, so that the user doesn't have to scroll through the entire content of the email. This will maximise the click-through rate.
It should preferably use an action verb to engage the student. : M'inscrire, Donnez mon avis, En savoir plus ...
There's no need to multiply the number of buttons - just one or two per email to maximise the click-through rate.
To do this, we've provided two templates that have been created by marketing experts to help you send emails that engage students. We strongly recommend that you use them.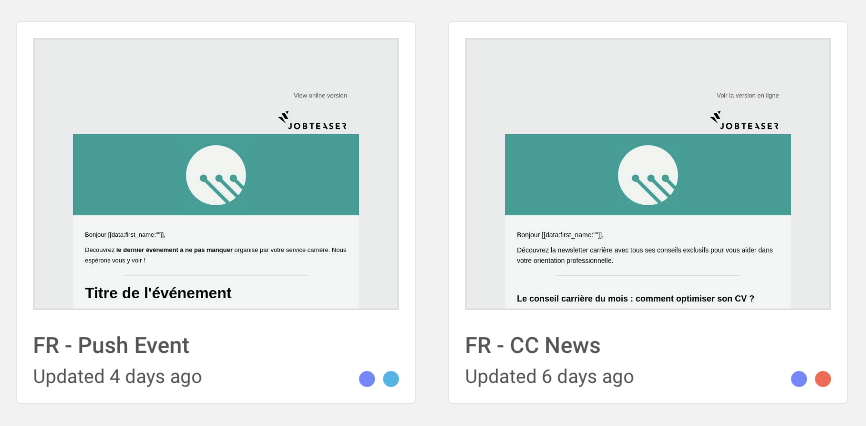 Push Event: this template is designed to push an event (or content) to your students.
CC News : this template is designed to send several pieces of content in the same email, a newsletter for example.
5. Make your message clear and concise:
The aim is to put your message across clearly and concisely.
Avoid the "block of text" effect, use bullet points instead and use different levels of headings to introduce your ideas.
Aim for brevity: 600 to 700 words maximum.
6. Use visuals to liven up your email:
Images and videos have the power to attract attention and enhance the design of your emails.
To ensure that your email is displayed correctly in your inbox, it is important to optimise the weight of your visuals. Ideally, images should not exceed 80kb in size. We therefore recommend that you compress your images before importing them into your template. You can do this easily and independently via this site:

https://www.iloveimg.com/compress-image

It is strongly advised not to send an email consisting solely of an image to guarantee good deliverability.
7. Test your emails before sending:
Systematically send a test email before scheduling the final send.
As well as testing how your email looks on your computer, take the time to test your email on mobile devices, as the way an email is displayed can vary depending on the screen and most of your students check their emails on their smartphones.
8. Keep an eye on your statistics:
Open rate: this is the indicator you need to monitor to ensure the quality of your items (see part 2).
Click-through rate: this is the key indicator that reflects how engaged your students are (see part 4).
Unsubscription rate: it is normal for some students to unsubscribe from your mailing list. However, this rate should be as low as possible (less than 0.5%). Interesting content sent to the right audience will help you limit the unsubscribe rate.
9. Use an unsubscribe link:
It is compulsory for RGPD compliance reasons. The unsubscribe link generally appears at the end of the email, along with the legal notice.
Bonus: optimise your performance using AB tests :
Carry out tests to compare 2 versions of the same email to find out which practices work best with your students. The test should focus on a single element: a variation in the subject or the position of the button, for example.
Once you have added your list of recipients, create a Version B of your email.

Select a sample of your contact list (30%) which will be used to test both versions of your email.
Choose how the winning version will be selected and sent to other contacts.
Select: automatic
Then choose the criteria that will define the winning version: we recommend you base your choice on the best click-through rate.
The version with the highest click-through rate will be automatically sent to the remaining 70% of your mailing list.