The Jobs module in the Back Office allows you to administrate your private jobs. Via this module, you can:
Validate/refuse a private job added by a recruiter
Create private jobs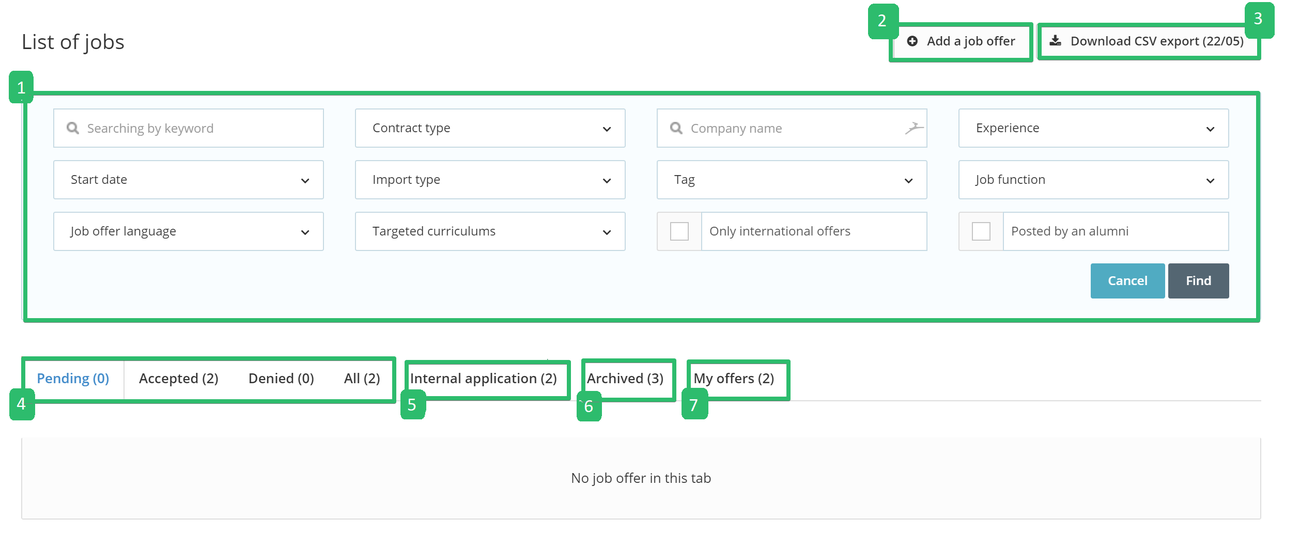 (1) Filters: filters allow you to filter all your private jobs. You can filter by keyword, contract type, company name, contract start date, job import type, tag, job category, job language, targeted courses, job location, jobs posted by an alumni.
(2) Add a job offer: the button "Add a job offer" allows you to post a job.
(3) Download CSV export: the button "Download export" allows you to export all your jobs data.
(4) Pending/Accepted/Denied: all jobs posted on your Career Centre will be displayed in the "Pending" tab. Once you have accepted or denied them, you will find them in the appropriate tab.
(5) Internal application: jobs that can be applied for via the Career Centre will be visible in the "Internal application" tab, unlike jobs requiring students to apply using an external website
(6) Archived: archived jobs will be displayed in the "Archived" tab.
(7) My offers: all offers you created or that are assigned to you will appear in the "My offers" tab.