The Events module allows you to create, manage and highlight your private events.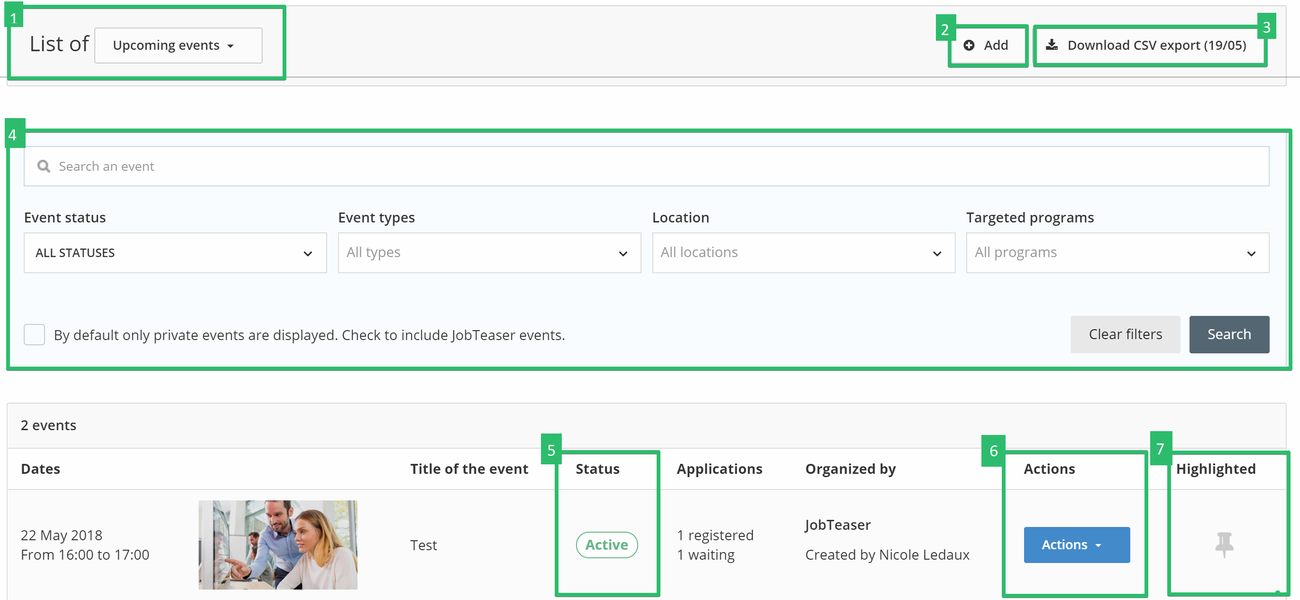 Gives you a global vision. The Events module home page is a dashboard that gives you an overall view of your events, whether they are private or public. By default, there will be:
private events created by a Career Centre administrator,
private events created by companies that have mentioned you as a co-organiser,
private events created by companies on your Career Centre.
If you want to view the events organised by JobTeaser's partner companies, simply tick the box and click on "Search".
Manage your events. The module allows you to activate, deactivate and organise all of your private events. You will find the following items on this dashboard:
(1) Event list: to show upcoming events or completed events (by default, upcoming events are displayed).
(2) Add an event: to create a private event on your Career Centre.
(3) Data export (CSV): to export an Excel file containing all the data from private and targeted events in your Career Centre.
(4) Search filters: to refine the search for events according to their status, type, location or targeted students.
(5) Event status: to view whether your event is Active (visible to students) or Inactive (not visible to students).
(6) Actions:
Edit event: to set up and manage the content of the event.
Duplicate: to save time when creating a recurring event.
Join the video conference: this allows you to access your event directly online
Manage registrants: to generate attendance sheets (online or to print) and view all the information on your registrants (those who are actually registered for your event, on the waiting list or who have cancelled their registration for the event).
See details: for preliminary statistics on the event.
View the event: to see how the event appears in the front office (student view).
(7) Highlighted: to promote an event:
in the Events module,
in the

automatic newsletter

sent to students.